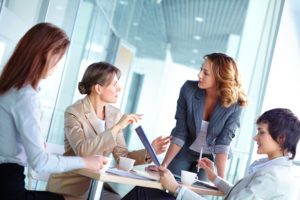 "Do you want to start or should I?
This is the worst possible way to open a meeting. And, yet, it is also among the most common. Epidemic, actually. I think it must be contagious.
Why is it bad?
Because it opens the door wide. It's an invitation to talk. It lets the horses out of the barn. Anyone with a topic that seems relevant to the group, whether a beef or a great idea, can take advantage of the vacuum to make a suggestion. Even if you address the question to a specific person, it doesn't prevent others from chiming in while they have the chance.
Secondly, it's an abdication of responsibility. And it reduces your credibility. Diminishes your leadership stature. If you are running the meeting, you are supposed to know who needs to start.
Third, it sets an overly democratic tone for the direction of the meeting. And that scares everyone. When busy people show up, they don't want a free-for-all. They want someone with a plan who will cut to the chase and accomplish something.
So why do you do it?
"Do you want to start or should I?" is a self-conscious gesture caused by one of five situations:
You don't have a clear idea of what you are trying to accomplish.
You don't have a clear process for achieving what you want to accomplish.
You don't have a clear idea of the roles people must play in order to achieve your objective.
You know what you want from others, but haven't told them.
You are just trying to be polite. You're a nice, caring, collaborative person! And you don't realize that you are letting the horses out of the barn.
If you don't know what you are trying to accomplish, shame on you! There is no excuse for that. That is completely irresponsible and disrespectful of people's time. You should never start a meeting without knowing what must be different when it ends. Without pursuing a tangible, concrete outcome such a decision, plan, problem resolution, or list that will move something forward.
If you have a clear outcome in mind, but haven't thought through the process that will get you to those tangible outcomes, shame on you once again! Ambling and rambling is not a productive use of time. How dare you assemble all these people without a clear process!
Thinking through the roles people must play is quite intricately tied up with thinking through the process. Albeit, another level of detail. But this isn't difficult. There are only two reasons to involve others. You either need their input to make smart decisions or you need their cooperation. Sometimes you need both. But there is no excuse for not knowing what you need from each person you invited and whether what they have to say should come first!

This article first appeared on Forbes, April 24th, 2017.