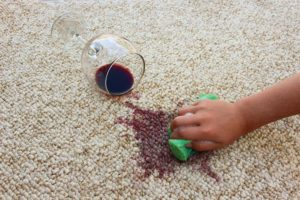 I am one of those people who can't go to sleep at night until a problem is solved. I discovered this in math classes long before majoring in the subject in college. Heck, I discovered this as a small child every time I got my hands on one of those tangles of metal that can be separated into two parts only with the right twists and turns. As a software engineer, I continued to solve problems. All night long, if necessary. As a consultant, I am still solving problems, though now the problems involve business challenges, often quite twisted and tangled! And I've got to tell you, no matter how good I've gotten to be at solving problems, I still pay attention to process. Actually, let me flip that around. My success at solving problems is undoubtedly a result of using disciplined process.
If you want to solve problems effectively, especially when working with others, a disciplined process is invaluable. My SPOT™ Remover for Problems will save you time and help you avoid 'solutions' that aren't really solutions because they don't work!
Step #1. S is for Specifics
Specifics come first. You can't solve a problem if you aren't clear about what exactly the problem is.
A problem is a situation where something is not behaving the way it should. Generally speaking, there are three types of problems:
Something has stopped working as expected. All was fine and now it isn't. The trick to solving these problems is to determine what has changed causing the change in performance. Something has to have changed or everything would still be fine. What is different now compared to when results were consistently good enough?
Seemingly identical situations are producing different results and some of those results just aren't good enough. The trick, in this case, is to determine in what way these situations aren't identical. You may think the machines, processes, skills, environments, etc., are all identical, but if you are getting different results, something is different about the circumstances. If you find those differences, you can eliminate them.
Performance is irregular. Good results are achieved part of the time but inadequate results occur at other times. The trick is to distinguish the circumstances that produce good results from those that don't so you can replicate those that do and eliminate those that don't.
The two most powerful problem-solving questions are:
What has changed?
What are the differences between the circumstances producing good results and those producing inadequate results?
Be specific. To avoid general 'fixes' that miss the mark, you have to know exactly what has stopped working or what is different about the circumstances when things work well and when they don't. Think in terms of changes and distinctions.
Step #2. P is for Possible Causes
You can't solve a problem without eliminating its cause. If you haven't short-changed Step #1, you now know the specifics that define your problem and are ready to identify possible causes. Be open-minded. Look carefully at the evidence you've compiled.
What is causing your problem?
What kinds of causes have you encountered in the past?
What might have caused the changes you discovered?
What is behind the distinctions you discovered?
Be sure you find the real cause or your 'solutions' will miss the mark.
Step #3. O is for Options
The third step of problem-solving is to identify possible options for eliminating the cause of the problem. Some people call these possible solutions, but most aren't solutions so let's not call them that. They are simply possibilities. Options to consider.
After you generate ideas for eliminating the cause of the problem, you must pick the option you think most likely to succeed. Only once you show success can you be sure you have a solution!
Thus, generate good options for eliminating the cause and pick the one you think is most likely to work.
Step #4. T is for Test
Once you are pretty sure you've identified the cause of the problem and a good method for eliminating that cause, it is time to test your hypothesis. How can you prove that you've identified the real cause and chosen an option that will actually eliminate that cause? Make your test as narrow as possible before you apply a potential solution to a situation that affects many people, processes, and locations.
If the problem recurs once you have your 'fix' in place, you either:
Did not identify the cause, or
Did not eliminate the cause.
Time to go back to the drawing board! You can't solve a problem without eliminating the cause. Use SPOT™ to bring clarity and discipline to your problem-solving. You will save time, solve problems once and for all, and avoid expensive roll-outs of ineffective "solutions."
OK, so now its time to take My Clarity Quiz!

This article first appeared on Forbes, November 30th, 2017.