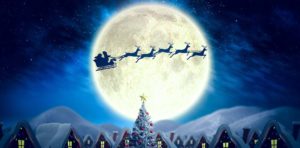 It was a sleigh ride I won't soon forget. From the North Pole to the heart of New York City, it was beautiful and exciting. We swooped into the city, darting between buildings, swinging left and then right, sweeping past landmarks, before alighting in front of the Radio City Music Hall and rushing into the Christmas Spectacular right behind Santa! We watched with joy as Santa proved he could be at the North Pole, on the street corner, and in every shopping mall all at once. Dancing Santas appeared on the balconies, filled the stage, waltzed down the aisles, and marched across the walls and ceilings. The magic and beauty were dazzling. Six thousand visitors left with visions of sugar plums dancing across their smiling faces.
The Rockettes are a New York institution. They epitomize stodgy tradition and signature moves. Or so I thought. These Rockettes, however, have embraced technology to create a whole new level of glitter, grace, and spectacle.
How?
They recognized that their value is measured in excitement and memories, not in the absolute precision and number of synchronized kicks that prove their capabilities. So they swapped some of those signature kicks for modern kicks and created a spectacle worth a million smiles and stories. And they even got me writing about dancers!
Don't focus on your services and capabilities. Focus on your value. Then find new ways to ramp it up, remain relevant, and beat the competition. #clarity!
Need help understanding your true value? Get touch now and I'll help you make 2018 a great year. It all starts with clarity: info@uncommonclarity.com.