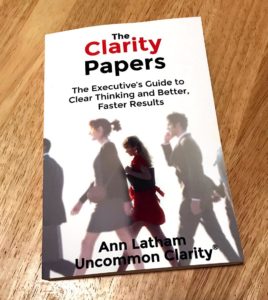 If you saw my email or blog post yesterday, you know that my newest book, The Clarity Papers, is now on Amazon! And you also know that Amazon is offering the Kindle version for free today, January 24th, through Friday this week. Three days only. I promised to remind you. So, you might want to download it now before you forget: The Clarity Papers.
Imagine if everyone in your organization knew how to get all the brainpower on the same page quickly? If everyone were in synch regarding what needs to be accomplished? If everyone had the ability to make things happen quickly and with confidence? Well, that's what clarity, real clarity, can do! That's why clarity can improve profits, productivity, and engagement.
Now that I have compiled all of my Uncommon Clarity® secrets into one book, The Clarity Papers, this level of strategic clarity is within your grasp.
If you want to learn more, read about The Clarity Papers here: http://bit.ly/The-Clarity-Papers
A few people who have read my book already have this to say:
"Like the Physician's Desk Reference – except for executives… or those wanting to become executives. Read it for insight (like creating a high-performance culture) or scan it and keep at your fingertips for when you're stuck (like gaining alignment on a messy decision). It's part inspiration, part insight, part handbook, and completely usable every day."
– Jane Lansing, VP Marketing, Emerson Automation Solutions
"Fearlessly undermines conventional wisdom to show you how to make better decisions, motivate your people, and find your way in competitive markets."
– Perry Walraven, CEO and President, Performance Controls, Inc., a subsidiary of Hitachi Ltd
"Compelling, immediately useful – this book holds the key to simplifying complex situations, eliciting clear ideas from your team, and reaching consensus around smart decisions."
– Ezio Basso, Managing Director, Prima Industrie S.p.A., Italy
If you read The Clarity Papers, I'd love to hear your thoughts!