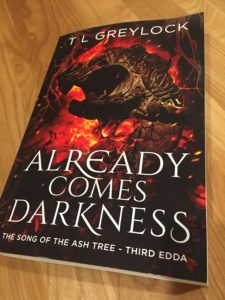 I'm really excited to tell you that the third book of my daughter's trilogy, THE SONG OF THE ASH TREE, is now available. I love her books, but I know I have no credibility when it comes to singing their praises. I hardly dare describe the books for fear of getting it wrong in her eyes, so I'll quote from her website instead:
"Brimming with echoes of the Homeric epics and set in the nine realms of Norse mythology, THE SONG OF THE ASH TREE is a story of betrayal, vengeance, love, war, and fate."
Sounds pretty intriguing, don't you think?
If you were waiting for all three books to be available before diving into this series, your wait is over!
And, definitely, let me know what you think when you finish!
OK, back to work!