People have been talking about conflict resolution and conflict avoidance for years as if we should all embrace conflict and shun those unwilling to do so. They are wrong. Conflict is destructive. It damages results, productivity, and relationships.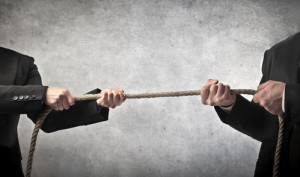 Conflict is the result of the fears and unproductive behaviors that originate in disagreement. In the worse cases, conflict becomes in violent. In the workplace, the consequences are rarely so severe. Nonetheless, conflict transforms decisions into painful processes. It invokes power struggles, silos, and internal competition. It makes some people talk louder, push harder, and lean in, while others shut down, react defensively, and lean out. Whatever the manifestation, conflict is destructive and prevents open, honest, productive conversation.
I'm not saying you and your employees should be in agreement at all times. You shouldn't. If you are, most of you are unnecessary. You need good healthy debate about ideas and decisions. You need disagreement. You absolutely need disagreement. And, unlike conflict, there is nothing fundamentally destructive about disagreement.
Good, healthy disagreement leads to eye-opening discussions. People learn, explore, and challenge each other's thinking. In the end, minds are changed and compromises are made or parties agree to disagree and move on.
So what causes disagreement to become conflict? The simple answer is a lack of clarity. 95% of conflict is caused by a lack of clarity. Without clarity, people become concerned about whether the ship is in good hands:
Do we know where we are?
Do we know where we are going?
Do we know how to get there?
Are the priorities sensible and clear?
Are the right people making the right decisions?
What's coming next?
Who's supposed to do what?
If I don't like what I see, do I believe I am able to influence the process and the results?
It doesn't matter whether these questions are focused on a high level strategy or the topic of the next meeting. When the answers to the questions are unclear, you shouldn't be surprised by unproductive behaviors. People all respond differently when they think things are out of control. You don't notice the people who just put their heads down and try to ignore the chaos, though that can be very unproductive. You do notice those who start pushing, attacking, forming coalitions, and digging in their heels.
To make matters worse, when people start to think their jobs and daily responsibilities are about to be turned upside down, the potential for fear and unproductive behaviors is even stronger.
Are the decision makers informed and fair-minded?
Are my best interests being represented?
Can I trust the people and the process that may be about to change my life or work?
People don't like disruptions without good cause. And they don't like surprises even with good cause.  Fear raises their hackles. The resulting behaviors are never productive.
People thrive on clarity – clarity of purpose, clarity of process, and clarity of roles and responsibilities.
I've facilitated numerous highly contentious, sensitive, difficult situations. When I transform a group that is distrusting and dysfunctional into a group united behind new plans, my clients often stop and try to figure out when it was I did the team building. I didn't. I don't do team building. I create clarity instead. It is much more effective.
Create a culture of clarity and your employees will be happier, better able to contribute effectively, more productive, and better able to make smart decisions. Conflict will be a thing of the past.
This article originally appeared on Forbes.com on September 29th, 2015.