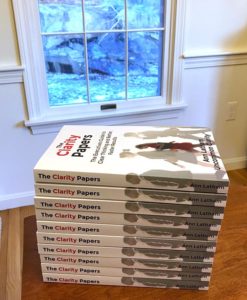 When I told you about my newest book, The Clarity Papers, I forgot one important detail: the Special Offer!
OK, so here is the deal. If you buy 10 or more copies, you will receive a complimentary one-on-one coaching call with me.
You can use it for help with a tough decision or situation, reducing implementation risks, increasing buy-in, overcoming an obstacle, or learning about the difference that top to bottom strategic clarity could make in your organization. Just email your order receipt to ann@uncommonclarity.com and we'll schedule the call.
You know all those people you work with who could really use a solid dose of clarity? Here's your chance to deliver that little injection. Buy them copies of The Clarity Papers. Shared clarity is the real secret to transforming the alignment, productivity, profits, and confidence to act quickly in your organization!
Also, before I forget, I want to tell you that I am truly grateful to have already received two reviews on Amazon from people I greatly admire. I am honored that they have read my book and found it of value! So let me share those now:
"This book is a gift to executives who understand—or want to understand—the value of having clarity in their business lives. Ann Latham shows us how to apply clarity in 10 important business areas, providing straightforward and actionable advice each step of the way. The Clarity Papers is a blueprint not only for competitive differentiation, but broader business success. Very highly recommended!"
– Dorie Clark, Marketing Strategist at DorieClark.com
"Ann Latham is a genuine expert in creating clarity — and this book clearly proves it! The Clarity Papers is a collection that is sure to drive Uncommon Clarity® — the kind of clarity that helps executives, employees, and entire organizations deliver better results in less time. Ann has written an incredibly well-crafted, thoughtful, and easy-to-apply handbook, one which convincingly challenges common wisdom about how to make decisions and get things done. It is a must-read for any executive looking to improve productivity, accountability, and organizational performance."
– Dr. Liz Bywater, Ph.D., Leadership Expert at LizBywater.com