People have been talking about conflict resolution and conflict avoidance for years as if we should all embrace conflict and shun those unwilling to do so. They are wrong. Conflict is destructive. It damages results, productivity, and relationships.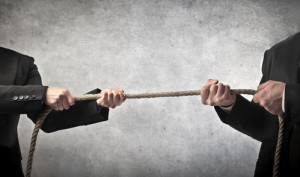 Conflict is the result of the fears and unproductive behaviors that originate in disagreement. In the worse cases, conflict becomes in violent. In the workplace, the consequences are rarely so severe. Nonetheless, conflict transforms decisions into painful processes. It invokes power struggles, silos, and internal competition. It makes some people talk louder, push harder, and lean in, while others shut down, react defensively, and lean out. Whatever the manifestation, conflict is destructive and prevents open, honest, productive conversation.
I'm not saying you and your employees should be in agreement at all times. You shouldn't. If you are, most of you are unnecessary. You need good healthy debate about ideas and decisions. You need disagreement. You absolutely need disagreement. And, unlike conflict, there is nothing fundamentally destructive about disagreement.
Good, healthy disagreement leads to eye-opening discussions. People learn, explore, and challenge each other's thinking. In the end, minds are changed and compromises are made or parties agree to disagree and move on.
So what causes disagreement to become conflict? (more…)