The Clarity Papers
The Executive's Guide to Clear Thinking and Better, Faster Results – New in 2018!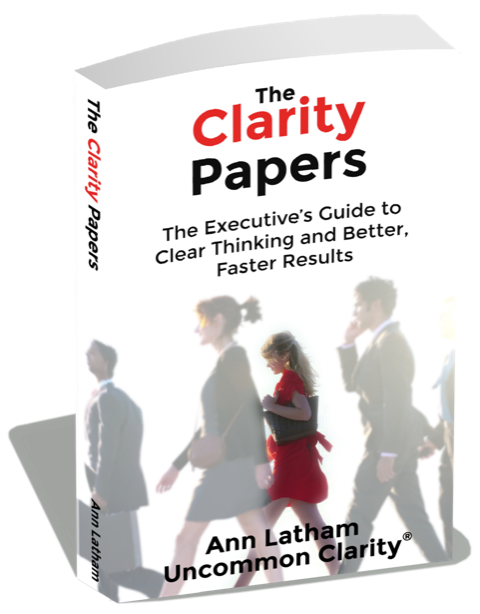 What's Standing Between You And Greater Success? 
Clarity comes first. Without it, we walk around the block to get next door, sabotage perfectly good strategy, erode profit, and thwart innovation. Most leaders believe they have clarity themselves and in their organization, but how do you know for sure? The Clarity Papers, a series of standalone, thematically related papers, will help you determine if a lack of clarity is standing between you and greater success. It will also provide specific techniques for creating strategic clarity from the top of your organization to the bottom.
Disclarity is ubiquitous. Ann Latham, founder of Uncommon Clarity®, Inc., has been bringing the Power of Clarity to clients representing more than 40 industries for over a decade. Her clients enjoy increased speed of implementation, employee engagement, innovation, and profit. You can't afford not to read this book.
"Like the Physician's Desk Reference – except for executives… or those wanting to become executives. Read it for insight (like creating a high-performance culture) or scan it and keep at your fingertips for when you're stuck (like gaining alignment on a messy decision).  It's part inspiration, part insight, part handbook, and completely usable every day."
–  Jane Lansing, VP Marketing, Emerson Automation Solutions
"Fearlessly undermines conventional wisdom to show you how to make better decisions, motivate your people, and find your way in competitive markets."
– Perry Walraven, CEO and President, Performance Controls, Inc., a subsidiary of Hitachi Medical Corporation
"Compelling, immediately useful – this book holds the key to simplifying complex situations, eliciting clear ideas from your team, and reaching consensus around smart decisions."
– Ezio Basso, Managing Director, Prima Industrie S.p.A., Italy
"This book is a gift to executives who understand—or want to understand—the value of having clarity in their business lives. Ann Latham shows us how to apply clarity in 10 important business areas, providing straightforward and actionable advice each step of the way. The Clarity Papers is a blueprint not only for competitive differentiation, but broader business success. Very highly recommended!"
– Dorie Clark, Amazon.com review
"Ann Latham is a genuine expert in creating clarity — and this book clearly proves it! The Clarity Papers is a collection that is sure to drive Uncommon Clarity — the kind of clarity that helps executives, employees, and entire organizations deliver better results in less time. Ann has written an incredibly well-crafted, thoughtful, and easy-to-apply handbook, one which convincingly challenges common wisdom about how to make decisions and get things done. It is a must-read for any executive looking to improve productivity, accountability, and organizational performance."
– Liz Bywater, PhD, Amazon.com review
"Let's be clear here. Ann Latham's, The Clarity Papers, is crisp and to the point. What's so great about this book is that in a time starved world, you can read a few of the papers, incorporate the ideas into your work (and personal) life, and then pick up the book again for the next round of great ideas. I can think of at least a dozen executives who would benefit greatly from reading this book!
"Admitingly, Latham's To Do List quiz hit a bit too close to home. The quiz alone is well worth the price of the book!"
– Roberta C. Matuson, Amazon.com review
"Ann Latham is one of the clearest writers you'll find on practical problem-solving, decision-making and planning to get better results more quickly. I've been reading Ann's column on Forbes for years and it's great to see her thinking systematised in a convenient handbook. If you've got a management issue that's slowing you down, you'll quickly find usable answers here.
"One of Ann's most powerful ideas is that lean thinking, while it has be applied so powerfully to physical process improvement, is almost totally neglected when it comes to thinking and communication.
"Her discussion of what she calls Treadmill verbs – if taken to heart – is particularly useful. Treadmill verbs are words such as discuss, report, communicate, and review – words that describe processes without a clear end point. They lead to a lot of wasted time. A simple example: If you are invited to a meeting to 'discuss' something, how will you know when you are done? We've all had our time wasted sitting in such meetings – no-one knew when they were finished so they just kept yapping until the hour was up. If, in contrast, you call a meeting to 'decide' something ('decide' is what Ann terms a destination verb) then you can tell when the work is done and whether the meeting actually led to progress.
"This sort of simple but neglected distinction make a big difference, and Ann's clear guide is a great investment for leaders at all levels."
– Andy Bass, PhD, Amazon.com review
"In my work helping small businesses create more positive, productive, and profitable work environments, I come across a lack of clarity in virtually every situation. This lack of clarity causes conflict and confusion among employees and those charged with creating company success. This book provides a wealth of resources to create clarity in virtually every business context and situation. Ann Latham provides frameworks to apply to create greater clarity across all levels of an organization with specific language to use and questions to ask to get there.
"Clarity is power, and a lack of clarity is weakness. Both impact the people in your organization you need most. Get this book and use it as your business management manual for strategic and operational excellence to make your company more positive, more productive and even more profitable."
– S. Weisman, Amazon.com review
"Clarity – of purpose, of role and of process – is a vital ingredient of success. But it isn't the natural state; there's a constant entropic drift to confusion, diffusion and dilution. Maintaining clarity is a constant battle, and what this book offers is an invaluable set of checklists and principles to refer to often to enable you to do just that."
– Amazon.com review
"Congratulations Ann Latham! The Clarity Papers is a must read for its game-changing approaches to common dysfunction."
– Patricia Duarte, Amazon.com review
Uncommon Meetings
7 Quick Tips for Better Results in Half the Time

Uncommon Meetings is short and powerful, just as your meetings should be.
How many total hours are you and your employees spending in meetings each month? What would it be worth to you if you could cut that time in half, dramatically improve the results, and reduce the number of attendees? Start saving that time and money now! Read this book today!
Discover the:
Single most important rule for short, valuable meetings
One change that will make you a stronger meeting leader
Seven secrets to great results and finishing on time
Techniques to double the value of each attendee
Criteria for canceling meetings
Reasons most meetings are slow and painful despite having agendas
Don't attend another meeting without reading this book!
"Uncommon Meetings is a must read for everyone in any organization, not just top management."
Al Kasper, President & COO, Savage Sports Corporation
"To achieve your desired outcomes in less time and with fewer people, read this book! It has great tips and memorable examples for improving meetings and is concise and clear as well. All and all, a huge value for anyone who spends a lot of time in meetings as I do."
Simon Lingard, Director of R&D, Aspen Technology, Inc.
"Ann Latham's Uncommon Meetings is a road map to well run meetings. It is a good read for busy people. While serving as a refresher for all of us who labor through less effective meetings, the highlights in boxes and bullet points emphasize insightful aids to more meaningful meetings and desired outcomes."
Dianne Fuller Doherty, Regional Director, Massachusetts Small Business Development Center Network
"I attended a workshop on this topic that Ann presented a while ago, and it is pure Ann Latham! Helpful, to the point, and lots of great tips to keep meetings productive instead of just a waste of time. I've found the tips useful even when I am not the chair of the meeting, including meetings of volunteer boards."
Lynn G., Amazon Reviewer
"This book is a quick read with simple, easy to implement, ways to improve your effectiveness and everyone you work with. Following the steps Ann lays out will not only make you more effective, you will get thanks from your co-workers as well for all the time they save and how much more productive they get to be."
Kimberly L. Putnam, Amazon Reviewer
"Ann Latham's Uncommon Meetings is a quick read, packed with substantive ideas on how to get more out of meetings in less time. Everyone who runs meetings should read it!"
Janet J. Warren
Clear Thoughts, Volume 1
Pragmatic Gems of Better Business Thinking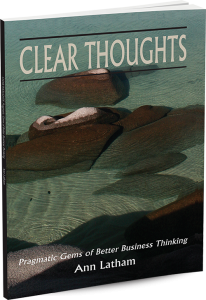 Inside this book are thirty-two concise articles that will provoke, motivate, and provide immediately applicable advice for getting better results.
Learn how you can:
Accelerate your progress
Boost your productivity
Capitalize on your talent
You will come back to these thoughts and tips again and again. Each is a quick read. Each provides great value.
"Direct, concise, useful, impactful – you will think in new ways"
Perry Walraven, CEO, Performance Controls, Inc., a subsidiary of Hitachi Ltd
"Fresh, organized and concise insights that make it easy to step back and get the clearest view of a situation"
Joseph Peters, President, Universal Plastics Corp
"Clear Thoughts is the fresh, grounding breath of perspective that every executive needs in order to see clearly despite the daily chaos."
Jane Lansing, VP Marketing, Emerson Process Management
Clear Thoughts, Volume 2
Pragmatic Gems of Better Business Thinking
This is the second collection of the globally popular Clear Thoughts newsletter by Ann Latham featuring concise, powerful, pragmatic business advice. There are 33 articles to shift your thinking and help you get better results in half the time.