Just because you build it doesn't mean they will come. You need to give customers clear reasons to part with their money and to do so with you. The clearer you are about what constitutes your competitive advantage, the easier it is to focus your efforts and investments, market your products, and convince your customers. Don't fall into the trap of believing all anyone cares about is money. Here are 10 perfectly good reasons why your products and services could be chosen over those of other companies.
1. Price
Price is frequently a strong component of the customer's buying decision. This is Walmart's raison d' étre. But price isn't the only consideration. And sometimes it is one of the least important factors. It is a huge mistake to think customers aren't willing to pay more for the other factors on this list. However, if you plan to win on the basis of price, you better have a really low price!
2. Quality
Think about the times when quality matters to you. A recent purchase just doesn't cut it and you are determined to find something that does. You are buying a gift for a special person and want to be sure it's of excellent quality. You need something you can rely on. There are innumerable situations when excellent performance and quality beats price. You could be buying a TV, selecting a moving company, or hiring a consultant. 'You get what you pay for' is a common expression, even though a higher price is no guarantee of quality. However, if you plan to win on the basis of quality—and have customers that return—your products and services better provide the quality your customers are expecting!
3. Speed
Sometimes speed matters almost more than anything. When your water heater starts leaking or your garage door won't open or even when you just can't wait to get the latest volume by your favorite author, speed matters. People are clearing willing to pay for speed.
However, speed is relative. In some cases, such as the burst water heater, speed means same day if not sooner. In other cases, such as a new custom home, speed means faster than average for that type of house. Just keep in mind that 'faster than average' keeps changing, especially in this age of next day delivery. Do you remember the days when you waited for the quarterly Sears and Roebuck catalog, begged your parents to write a check, mailed your order, and were happy to receive those brand new sand colored jeans at least a month later? My, have times changed! If you plan to win on the basis of speed, understand current expectations and figure out how you can shorten the path to results for your customers.
4. Risk
Reduced risk is compelling in many situations and well worth the money. Sometimes less risk is simply a benefit of buying great quality and if the superior quality of your products and services is your competitive edge, you can often advertise risk reduction as part of your value. But sometimes reducing risk is entirely separate from quality. Examples include insurance, on-call service contracts, and warranties, as well as less tangible advantages such as knowledge or close relationships that convince customers you have their back and will go above and beyond to ensure their success. If you plan to win by reducing risk, you must understand the risks your customers face, figure out how you can reduce those risks, and deliver unerringly.
5. Convenience/Ease
I love doing business with people who make it easy for me. Easy answers, easy ordering, and just an easy experience from the first contact to the last. Amazon makes it incredibly easy by putting practically everything imaginable on their website, delivering within two days, and answering phone calls with competence, no questions, and better than expected solutions. But easy need not be so comprehensive. Think about all of the times companies leave you on hold, force you to create online accounts and change passwords, make you call back, and leave you unsatisfied. The bar is pretty low here. To make convenience and ease your competitive edge, you need to examine your customers' experience from top to bottom and make doing business with you a welcome breeze.
6. Lifestyle
I use lifestyle to explain many purchases that just don't make sense under any other category. It's always someone else's lifestyle I'm talking about, of course! I'll probably offend some of you by listing a few examples, but tattoos, ripped jeans, and giant luxury hotel suites come to mind. Of course, it also includes many things of which I partake: travel, sports, and electric cars. People will definitely pay for their style and pleasure.
7. Integration
Apple wins the integration game in my life. How could I possibly switch to another brand when my iPhone, iPad, iMac, and MacBook Air all work together so well? Integration is a way to insinuate your products and services into the very fabric of daily operations for both companies and individuals. If you want to win by integrating, you need to create a family of products and services that are independent but also create more value through interdependence. Imagine a clothing store that saw to it my individual purchases always matched things I already owned and always created fabulous outfits! I could be hooked for life!
8. Ultra coolness
Apple also wins in the supercool category. That's why everyone is lining up to buy the iPhone X. While they may be the kings of ultra-coolness, there are plenty of gadgets touted on Facebook as super cool. Just this week I learned about an appliance that replaces six other appliances, comes with a backpack, and gets your kids to school on time! Well, almost.
9. Prestige
While you may be eager to flaunt your supercool products and your lifestyle products, you might also just revel in their awesomeness at home alone. Prestige products are another story. Half of the point, maybe all, is to impress others. A Bentley, Jaguar, and Lamborghini fit the bill. Of course, if you live in the right place, a couple of these are good lifestyle options too. Check out this picture I snapped when we stopped for gas in the Julian Alps of Slovenia last month. You can't see the second Ferrari, but if you look closely, you can see two Lamborghinis and a Maserati.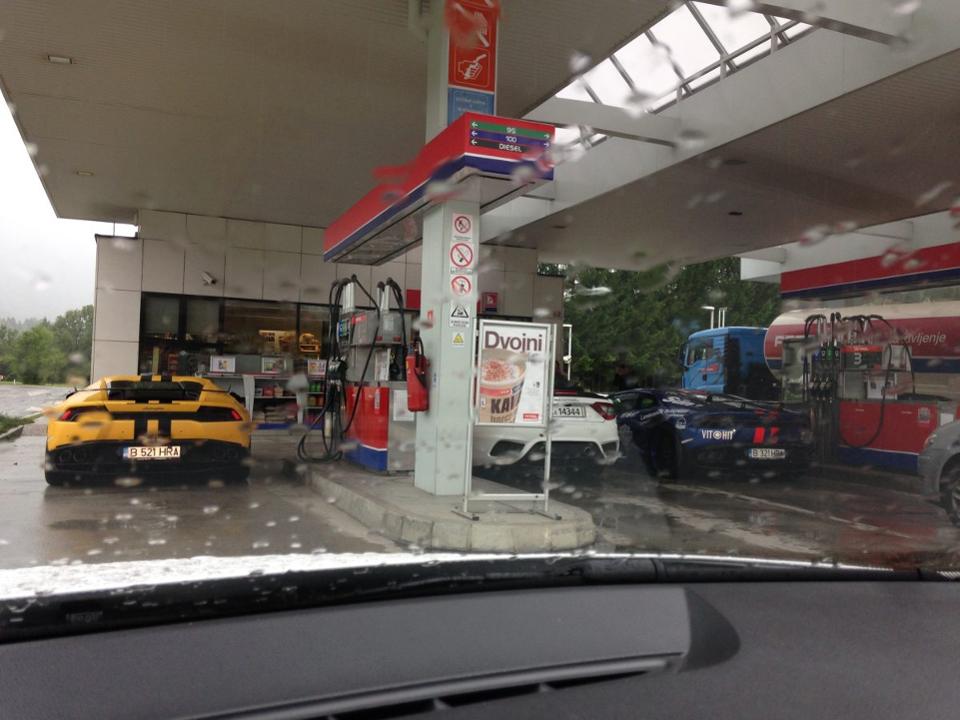 10. Loyalty
Loyalty is another powerful edge. Typical approaches include a decent product, convenience/ease, and member benefits. Dunkin Donuts has made me a loyal customer using exactly that method. First off, I like their coffee. Secondly, they are ubiquitous in the areas I frequent and I don't have to add my own cream! That last one might seem silly unless you see how often I run out of other coffee shops only to return because I forgot to add my own half and half! Third, their app earns me free beverages and makes it easy to pay without cash and without feeling guilty about using a credit card for a little purchase.
But loyalty can also be built through very close relationships. If you have a decent product and a reasonable price, you can tip the scales by building the kind of relationship that keeps customers coming back. It is hard for a customer to walk away from someone who has repeatedly gone out of their way to meet their needs. Perhaps they could save a buck or gain a new feature elsewhere, but will a new vendor be there for them? Why risk it!
What's your competitive edge?
Play with the chart below to help you establish your competitive edge. Before you begin, here are some definitions.
Lagging = Falling short of customer expectations
Competitive = Meeting or exceeding expectations slightly
Out front = Clearly ahead of the game
Place an N in the proper column of each row to represent where you stand Now. Use C1, C2, etc., to rate your main Competitors. Use F to mark where you would like to be in the Future. Feel free to modify or add rows to paint a better picture of your customers' priorities.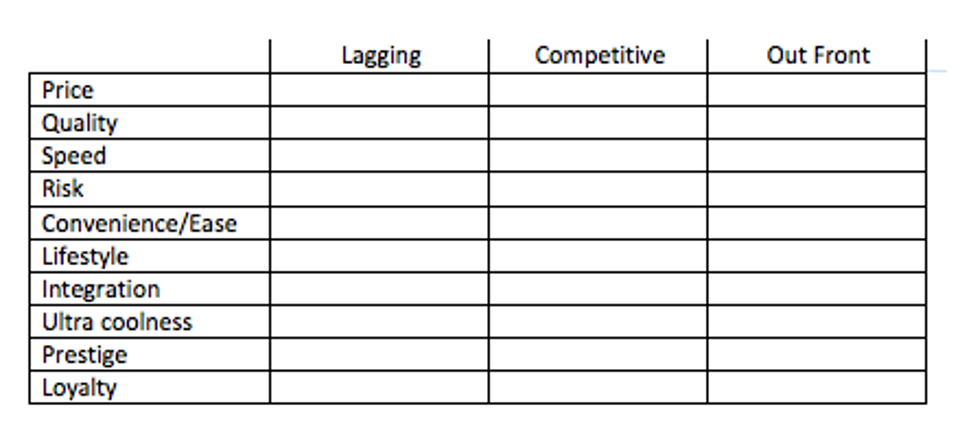 You can't be Out Front in every category, so choose wisely based on your target market. Think hard about settling for Lagging in any category because that can lead to customer dissatisfaction pretty quickly. Strategic focus is critical. Doing less and doing the right things really well allows you to use your resources efficiently and effectively. What's your competitive edge?

This article first appeared on Forbes, November 19th, 2017.